Europa
1972 Lotus Europa 2037R
Europas were built from 1966 into 1975. There were approximately 9000 built over that period.
I bought 2037R in 1982 from the then-current owner in Foster City CA (near San Francisco).
In August 2018 I passed the Europa on to a new owner. It has a couple problems (my fault) and I prefer not to spend more money correcting my errors.
It's a Twin Cam model that once had the early 336 Renault transaxle. It's had a history of modification and the first 10 years of the history is lost. The serial number identifies it as the 37th Federal (US Market) Twin Cam made (or was it the 38th?). The many changes will certainly not be appreciated by those valuing originality...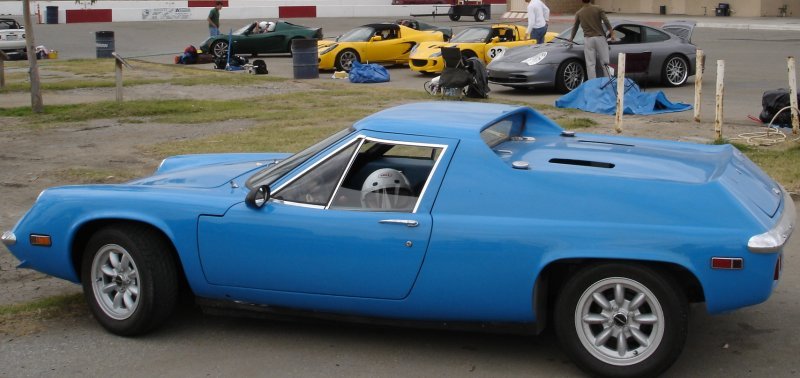 When the car is running (meaning when I'm not in major modification mode) it's used for driving to the store and to Lotus club events and also driving on track days.

Approximate history since 1982:
1982-91: In frequent use. About 90,000 miles in total from new.  
1991-96: Dormant, needing engine work. Outside in the rain.
1996: Engine rebuilt, frame off restoration started.
2003: Repainted by Bob Groat in Dupont color 5205K (plus clearcoat).
2004: Restoration complete, Europa in frequent use.
2007(March): Engine cam-bearing problem, swapping in Zetec 2.0L.
2009(March): Back on the road (barely). 
2009(September): The first time a track day was free of issues.
2012(February): Gearbox changed to an NG9 (an NG3 variant) 
    with a cable shifter and rear brakes are disk brakes. 
2012(June): The electric coolant pump has a proper controller
    so the pump is only running at full power hard when needed.
2012(November): Replaced front lower A arms and bushings.
2013(June): Replaced original-size radiator with much larger radiator.
    Simplified coolant routing.
    Replaced fuel and oil lines with new lighter weight lines.
    Simplified oil system.
    Removed left hand fuel tank.
2013(October) NG9 input shaft to mainshaft coupler broken so no-go! 
    Found lead in engine oil (TitanLabs.com).  Double trouble.
2016(September) Transmission back together with new inputshaft
    and coupler. Engine with new coated rod and main bearings
    with very precise clearances mixing two sets of bearings.
    Engine mounts modified to limit movement.
    Half-shafts balanced.
2017(June) Very precise mounting of engine-trans so at rest
    no torques on anything and only very limited engine 
    movement allowed. Beginning test drives. Exhaust loud.
2017(November) New muffler (9DB quieter). Now with intake air
    box too. Dyno 170HP at the rear wheels.
2018(January) Revised dashboard so it looks better.
2018(

The conversion to Zetec was quite expensive. I've made many expensive mistakes. I bought some very pricy things, a few of which I could not use in the end. I had to redo some things several times. I had some parts specially made. The conversion and running costs are over $100,000 from April 2007 to December 2017. Others have spent only a fraction of this using different components and better planning. If you don't drive Europa on track that will avoid lots of track-related breakage and expense. But no matter what the conversion is not cheap.
If you have questions about the conversion or find mistakes here, do not hesitate to let me know. My email address is on my home page (see the top of this page for a link to home).

This work is licensed under a Creative Commons Attribution 4.0 International License.

This work is licensed under a Creative Commons Attribution 4.0 International License.