I have not received any National Security Letter.
Please join the Electronic Frontier Foundation ( EFF.org ) and the fight for your rights on the Internet.
Please join the Union of Concerned Scientists ( uscusa.org ) in bringing science into improving all our lives (everyone is welcome to join).
Public Domain works are a vital part of any culture and there are repeated attempts to erode the Public Domain. For more information see the Center for the Study of the Public Domain at Duke University.
David A's Europa
Frame Restoration
Frame Restoration
One aspect of the restoration was repainting the frame. It had only very light rust (some of it under the factory original black paint). It also had very minor rippling at the very thin rear end area and a little denting on the bottom of the front tee from careless jacking (issues I ignored). It also had a small cut and crack on the frame top near the engine mount: a result of the installation of the air conditioner years before (removed before I bought the car). I had the cut-out piece restored (a patch welded in ) and the crack welded with a small piece added. I was initially reluctant to have it sand blasted (thinking of something softer), but in the end that's what I had done. Following this, I built a holder so I could have the europa frame up in the air where I could turn it around, holding it at each end. I gave it a complete preparation treatment according to the directions and then painted with POR-15. POR-15 is very thin so even with a brush the result is very smooth and shiny. I simply could not let myself use black though, too hard to see any dirt or to keep it clean.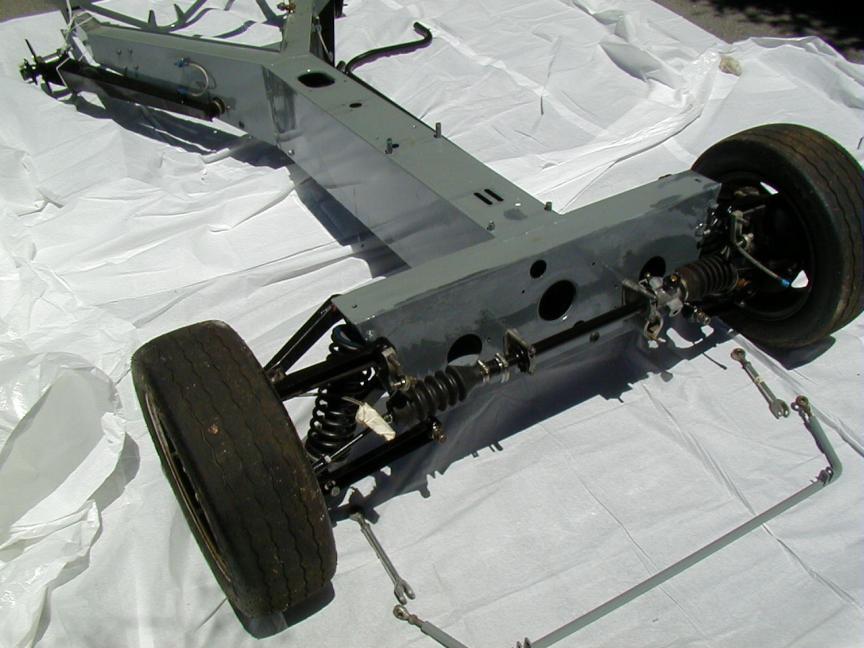 Notice the front sway bar on the ground.

This work is licensed under a Creative Commons Attribution 4.0 International License.