Trackdays
Trackdays
In June 2019 I decided it was time to retire from driving in competition and driving on track. I started racing in 1970 with the Midwestern Council of Sports Car Clubs in a 1964 Mini I turned into a racecar. My last race series was Lotus Cup USA 2011 through 2017 in California in a Lotus Elise. That retirement decision comes to us all at some point in life, and this was my time.
I have pictures from track days and other GGLC events. My records are not too complete: I don't have pictures from many autocrosses. Hope this is of some interest.
Trackdays, 2019
CFRA Trackday, Sonoma Raceway May 05 2019
I'm a guest of the Checkered Flag Racing Association today in the hope these very nice people will allow me into their group. Running in Group A.
The following is by Caliphoto.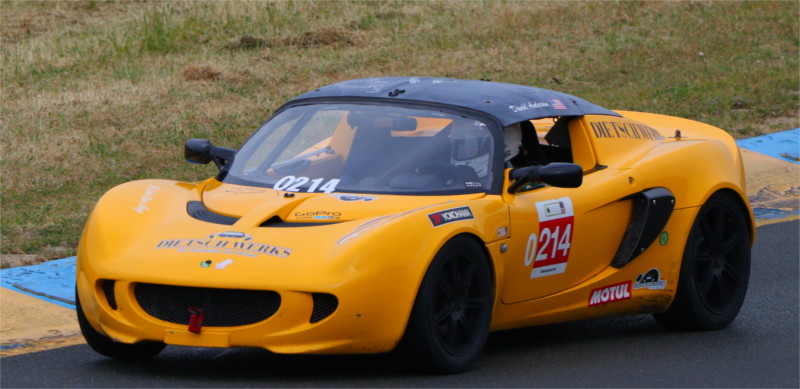 GGLC Trackday, Thunderhill Raceway Park 25 March 2019
It was 50 degrees F all day with no sun. We had real rain by 9AM which tapered off to random occasional droplets by late morning. The forecast had been for much more rain, which meant some folks chose not to come.
The Hoosier wets (tires only usable with truly wet track) were wonderful. In the 11AM session we changed from the Hoosier wets (which would be destroyed by driving in the dry) to Hankook race tires and your scribe found that now a little slide was uncatchable and spun into the mud, but luckily was able to drive right out and back onto the track. After the 1PM session where we were pretty much on a dry track and speeds we were higher everywhere we discovered that the body was getting heat damaged by the muffler and was smoldering. After a liberal application of water we decided it was unsafe to continue (fire danger) and called it a day. This 2006 Elise racecar has been used for many LotusCupUSA races and various trackdays by yours truly and others since 2011 and the many exhaust changes (for weight saving at some tracks and for sound control at others) surely damaged the original heat shield a little. The body and heatshield will be repaired and a slightly different exhaust installed before the next event.
The Thunderhill clubhouse display showed the club Logo at times during the day: Here is #214 and the logo.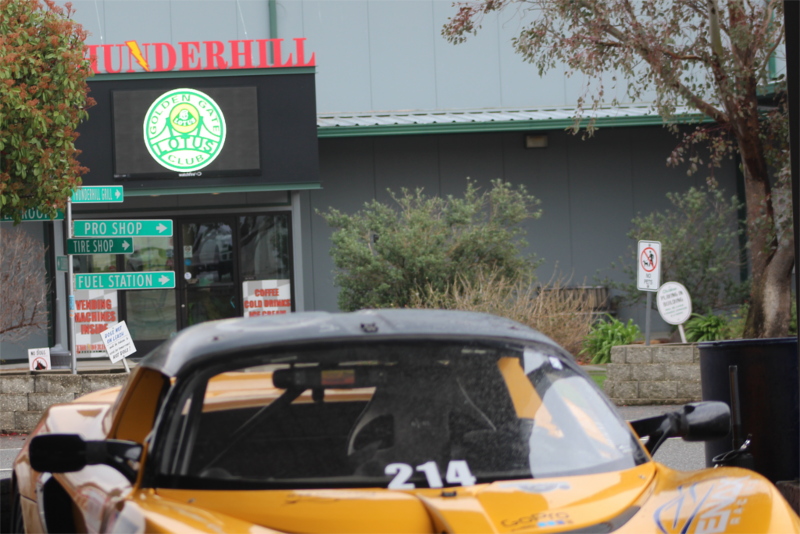 GGLC Trackday, WeatherTech Raceway Laguna Seca 20 February 2019
Cold (46F rising toe 50F) and with heavy rain in the morning meant the day was not fully subscribed. In the 11AM session the rain was so heavy (the Elise racecar has no windshield wiper and the RainEx treatment had not been refreshed) your scribe could not see the track and left the session early. Even though all the driving was on race slicks this day it was still a good day.
Plus I parked the car at the wrong angle in the paddock and the rain came in the (windowless) door and made a big puddle in the all-fiberglass seat!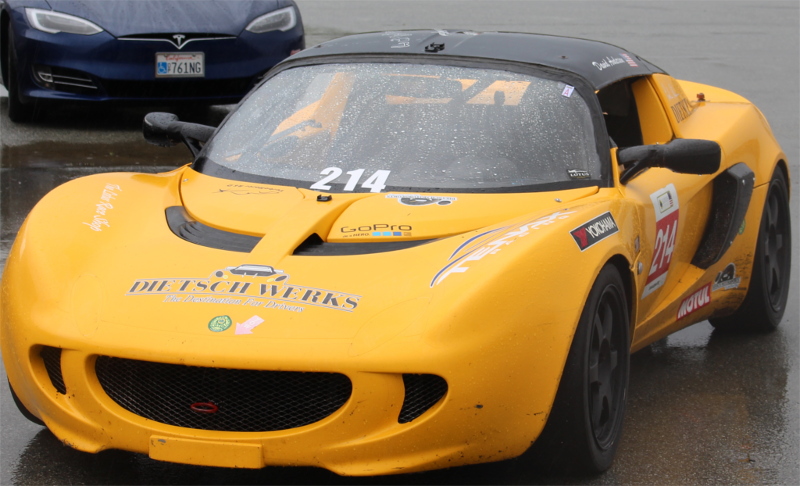 Trackdays, 2018
GGLC Trackday, WeatherTech Raceway Laguna Seca 13 November 2018
The weather was ideal: 60F in the morning rising to the low 70's F by midday and then cooling off somewhat by 4PM. The smoke from the fires was barely perceptible.
In the 3PM Advanced group session it was clear the race tires were 'going off' or the track was getting slippery as they were losing traction where earlier there was no trace of excessive slip. So I called it a day. If I read the AIM Solo 2DL correctly I had a new personal best time (I'll check the device as soon as I have time) so I'm pretty happy.
In the 2PM and 3PM session several cars spun and got into the dirt enough to raise some big clouds.
Next picture is in the world-famous "Corkscrew" at Laguna Seca. The road drops about 3 stories in around 50 feet.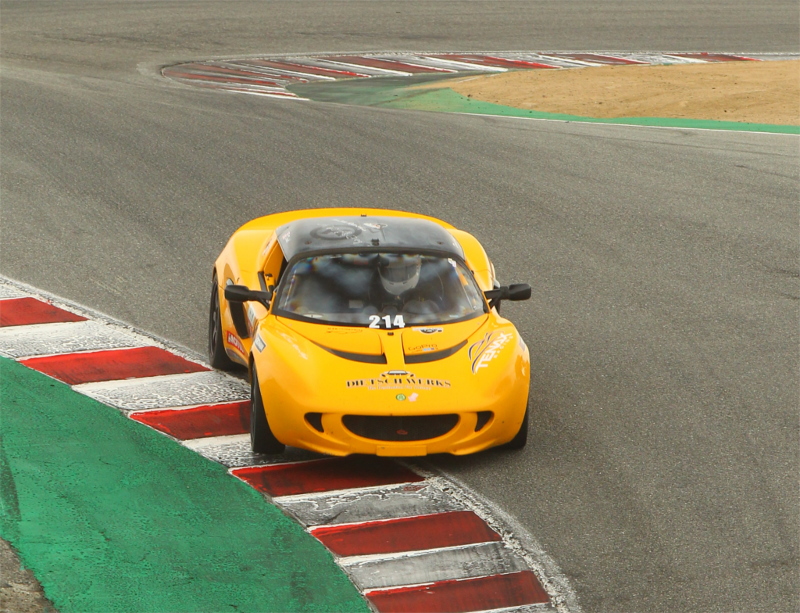 Next picture is in Turn 3. We're not racing, just practicing, but sometimes the cars do get close together as we pass each other.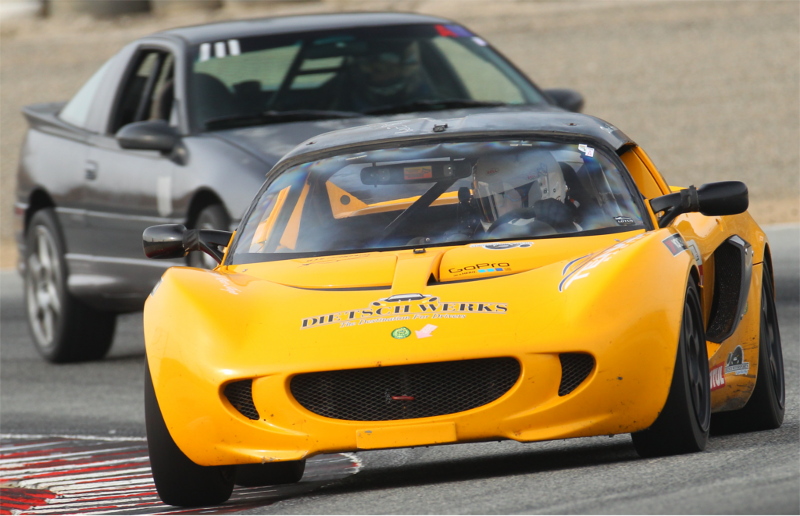 Photos copyright Dito Milan, GotBlueMilk.com.
GGLC Autocross Marina CA, 28 July 2018
Round 5 of the 2018 GGLC autcross season. Again cool and overcast, warming by afternoon. In the 5th run I just barely got into the high 49 second range. Once again the only entrant in the 'Classic Lotus - Stock' class... Thanks to Les Ellis for the photagraphy.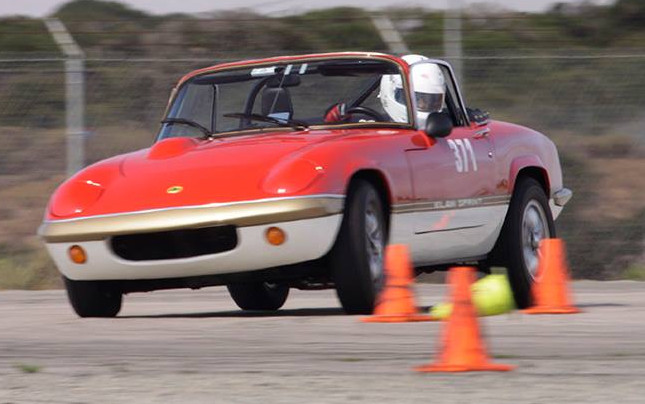 GGLC Autocross Marina CA, 01 July 2018
This was Round 4 of the 2018 GGLC autocross season. It was cool and overcast at Marina though it warmed up as the day went on. The course laid out left lots of driver choice as over-driving or poor line choice would not put one off-course but easily slowed a run by seconds. My best run was 54.9 seconds. Understanding and driving the best way was a considerable challenge. Here on course in 1966 Elan (restored to Elan Sprint configuration in 1990) during a run. Aside from the launch at the starter's green flag each run was entirely in second gear.
Here after a run with the club truck, course workers, and timing/scoring in the background.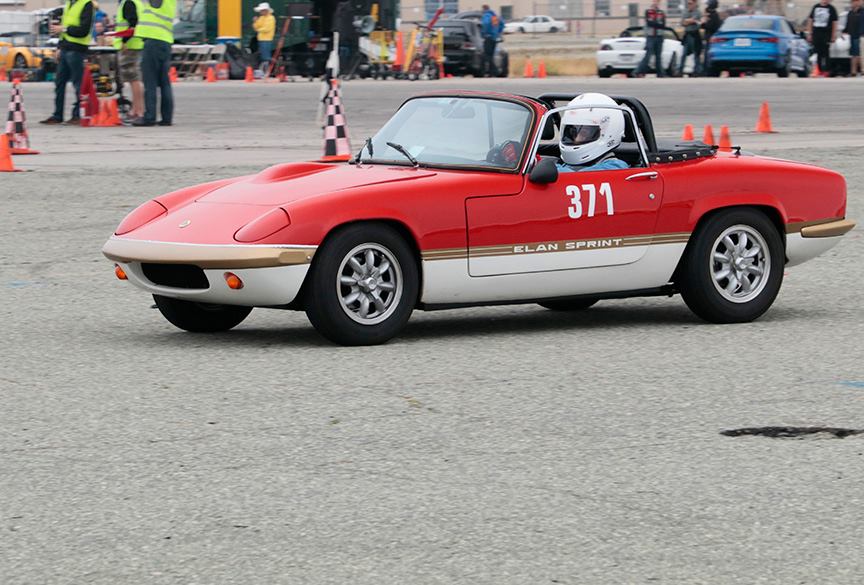 The above pictures are thanks to Les Ellis.
GGLC Trackday Thunderhill Raceway, 29 May 2018
Today running the five-mile course and taking the turn 5E bypass. It was warm at 9AM for first-cars-on track and was 98F before long. In the first session I drove a Dietsch Elise with the stock shifter (while Rob Dietsch, www.dietschmotorsports.com, switched #214 to race slicks). I skipped the second session as the heat really got to me. By the third session Rob had hooked up the AIM DL electronics and camera and had installed the Coolshirt bag and hoses so I had cooling.
I was really happy to be driving #214 as it has the Dietsch-designed shifter and that works FAR better than the stock shifter: better feel in shifting and easier to tell which gear one is in from the gear lever position. Night and day better. As I type this the dietschmotorsports web page actually shows #214 at a previous-year's LotusCupUSA race weekend!
I was just too warm and heat-distressed to think about taking any pictures of #214 after it was set up, but here is one of the GGLC truck in the early morning with a few Lotus.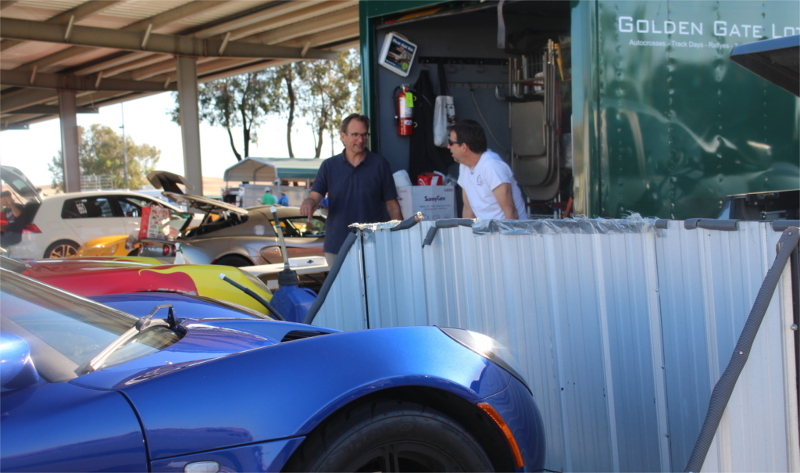 Trackday Laguna Seca, 26 February 2018
The first GGLC trackday of 2018 (Mazda Raceway Laguna Seca is still the name, but that is to change shortly!) was forecast rain, and rain it did. Temperatures in the 40+F area. Sunny during the Driver's Meeting, by 9AM a light rain had started and the rain got heavier and lighter throuout the day, basically a light drizzle by end of day.
I brought my Zetec power 1972 Europa after a long engine/transmission rebuild. First time it has been on track in 5 years. Actually the engine was ok. Just the NG9 transaxle had a breakage due to improper dowels (weak dowels) joining bell housing to transaxle. Thin dowels.
Barry Spencer at Spencer's MotorSports.com provided crucial professional help and advice in rebuilding the engine. Any remaining issues will by my fault...
Rob Dietsch of DietschMotorSports brought three Elise for customers participating in the trackday. Later this year I'll be in one of them for GGLC Thunderhill trackdays.
The low cloud cover lead to a number of cars violating today's sound limit of 90DB. I asked for a sound check and, trying to make the maximum noise possible, I managed 92.5DB, which was pretty shocking. I did not expect that much noise. Hmm.
The club-provided snacks and drinks were under the tent shown just below. Notice 3 generations of Lotus Cars. When is the last time you saw two Europas?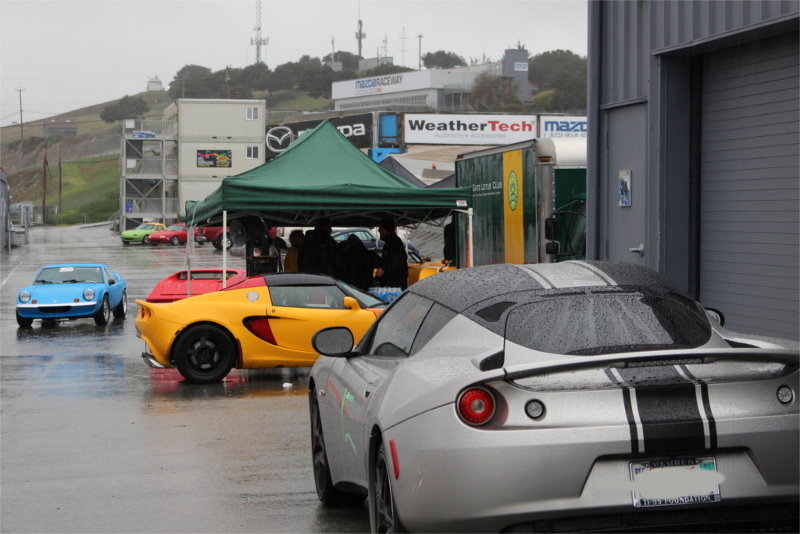 The following is copyright Dito Milian GotBlueMilk.com. The Toyo Proxes R888R seem to be handling the water, getting it into the central groove somehow. Most of the day everyone aquaplaned through two little rivers on the main straight (not shown). Drivers hyper-alert to steering angle (straight!) and the possibility of rear tires losing traction under power.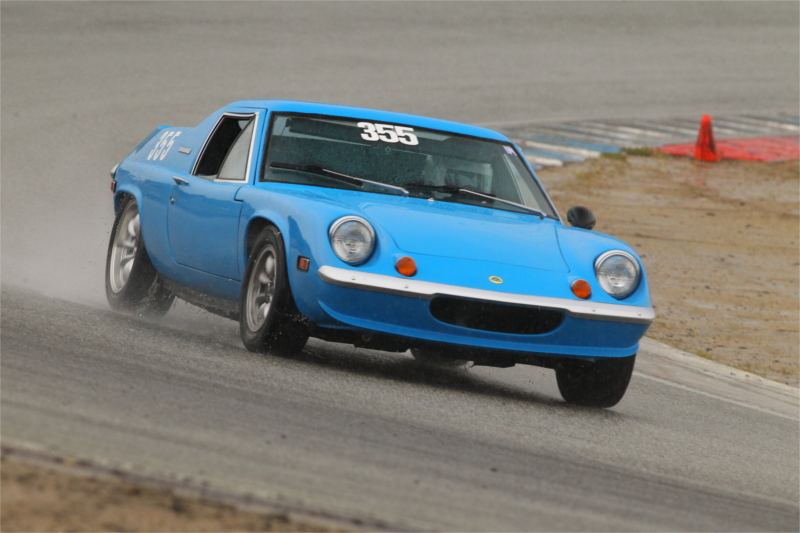 Trackdays, 2017
Trackday Laguna Seca, 23 October 2017
What a beautiful day in Monterey. Cool in the morning and warm in the afternoon. Sunny with just the slightest breeze. Rob at DietschMotorSports brought #214 Elise for me and he and Hoover found a new clutch supplier and within the first couple laps I knew this was a better clutch: faster, but gentle, bite on upshifts. I expect this will last longer than the previous clutches!
The tires today were old used LotusCupUSA race slicks and not particularly sticky. I was hoping to do better than 1:46 but no dice in spite some improvement in my line through turn 2. It is truly wonderful how a track-ready Elise goes lap after lap, session after session, and other than the tires getting stickier as they warm up there is no change in the feel of the car. Reassuring.
The following picture, of your correspondent in #214 at the exit the last turn before the main straight, is copyright Dito Milian, GotBlueMilk.com.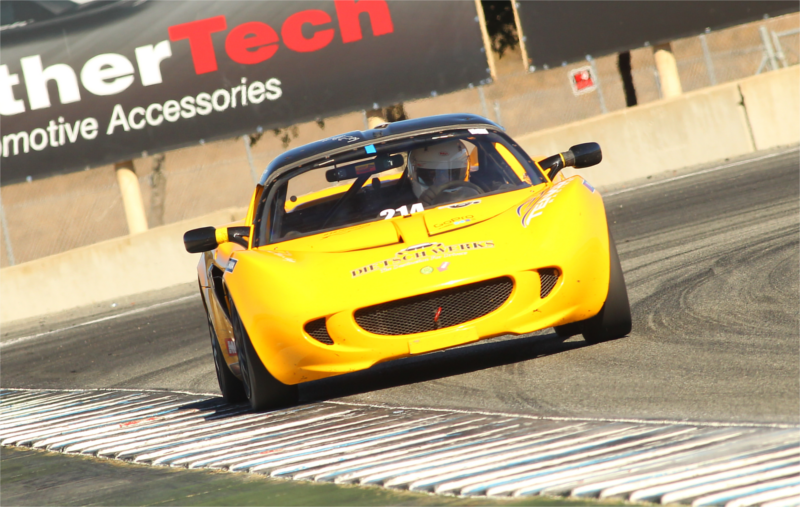 Rob brought 3 cars.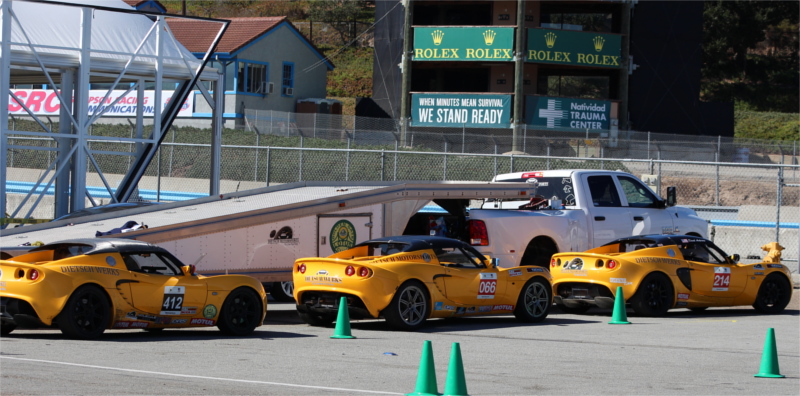 It is mid-morning in the following picture of the GGLC club truck and registration. All the action is on track so it's calm now at registration. Little happens at registration after 9AM beyond announcements of upcoming sessions on the club speaker system and entrants stopping by for water or a snack. Each of the three groups got seven twenty-minute sessions on track --- plenty for everyone entered.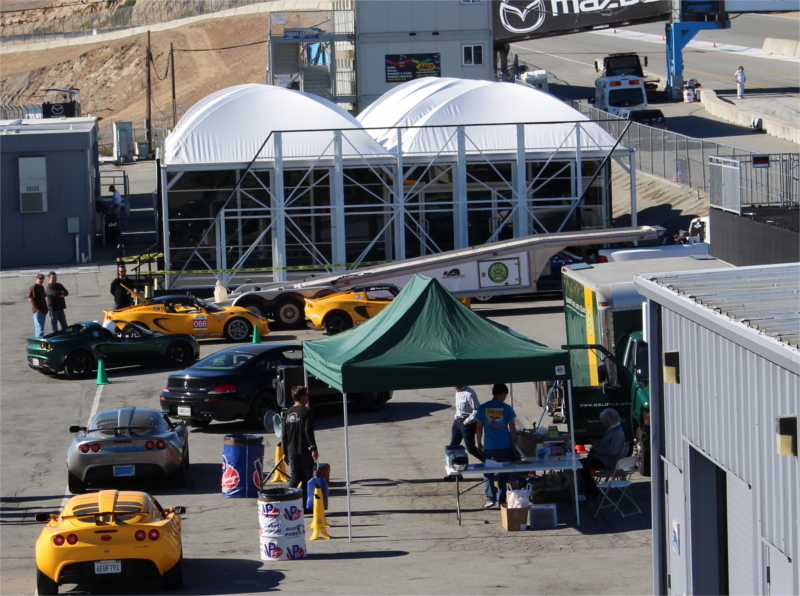 GGLC Autocross, Marina California October 8, 2017
For the first time in a few years the Europa was ready to run. So I trailered it down to Marina, CA for the seventh round of the 2017 GGLC autocross series. It had been long enough that I had forgotten the wonderful torque of the Zetec 2-liter engine. The acceleration was exhilarating. Thanks to Kiyoshi H. for making the photo available.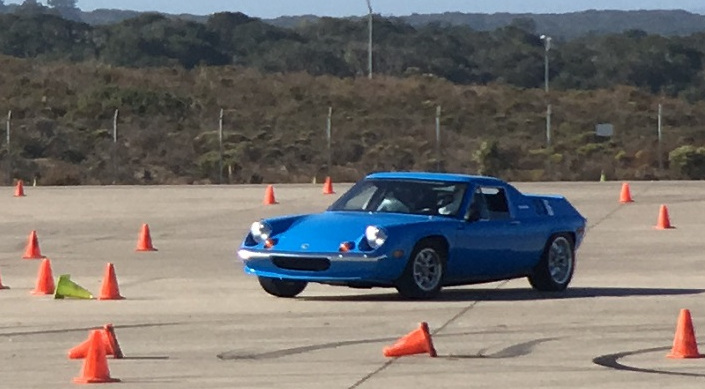 GGLC Trackday, Mazda Raceway Laguna Seca July 17, 2017
It was a beautiful day at Laguna Seca. DietschMotorSports preparation of #214 included a new clutch and the very clean Elise ran perfectly all day.
I forgot to apply suntan lotion and did wind up with a tiny bit of sunburn on my neck... Some aloe vera applied that night fixed me up.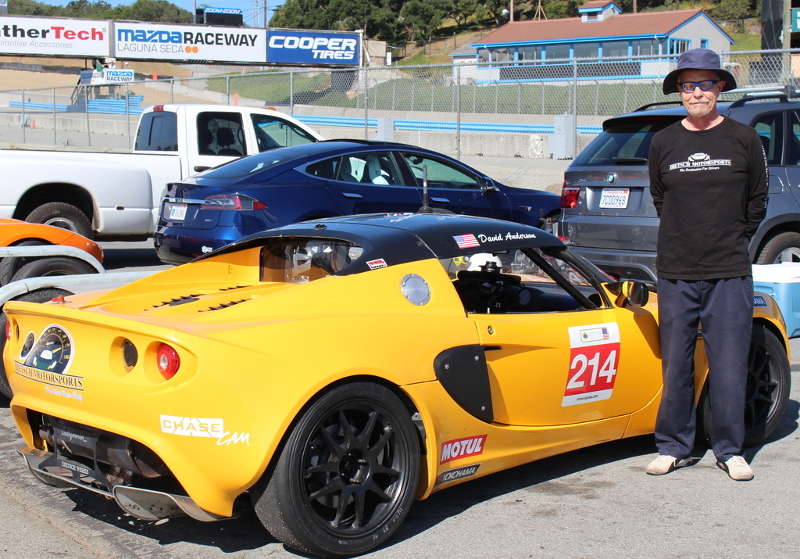 The following picture is copyright Dito Milian, gotbluemilk.com. This is coming up the hill (after the soundbooth) approaching turn six.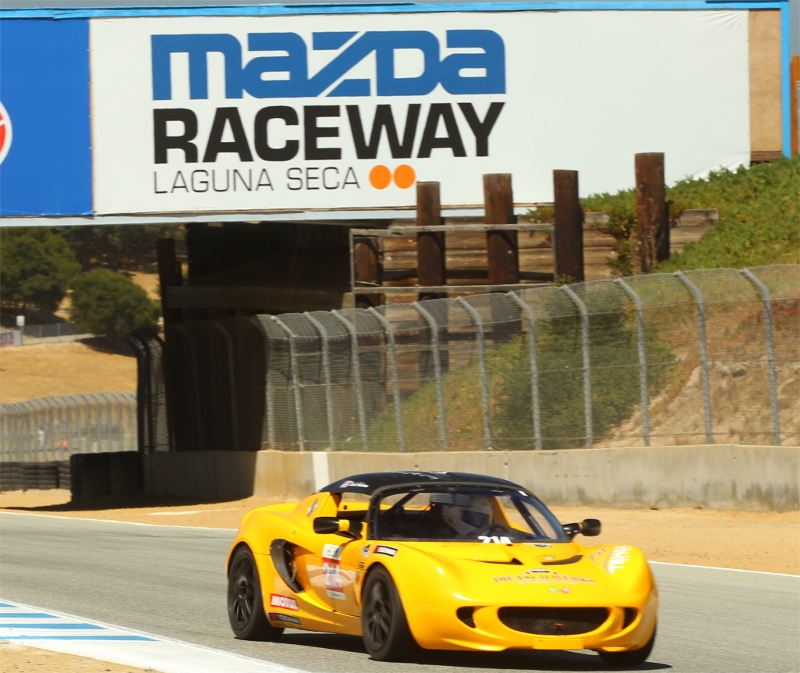 GGLC Autocross, Marina CA Airport,July 15, 2017
Course setup starts early in the morning so we can have a driver's meeting at 8:30 and start runs at 9AM. It was pretty foggy and cold this particular morning. By 9AM the fog at ground level was gone and by lunchtime there were clear skies. I brought the 1966 Lotus Elan (no pictures of it that day). Here you see the GGLC truck with folks setting up the equipment and other folks (to the left of me and out of sight) setting up the rest of the cones for the course.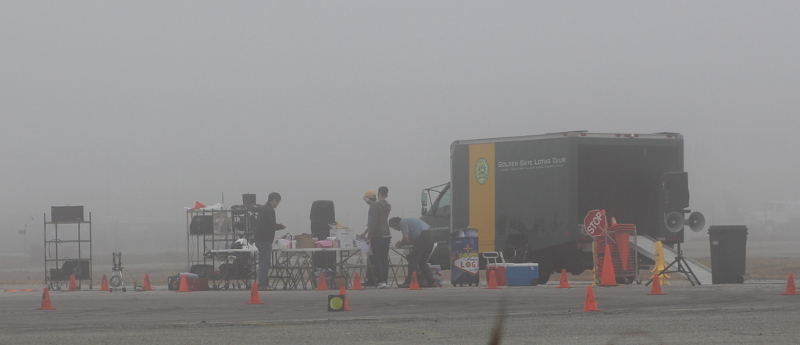 GGLC Trackday, Mazda Raceway Laguna Seca February 24, 2017
After days of rain the GGLC first trackday of 2017 was clear and cool: 38F in the morning rising to 52F in the afternoon in the wonderful sunshine.
Rob, Jen, Sebastian and Sullivan of DietschMotorSports brought Elise #214 for me with some upgrades. Hoover Chan of TurboHoses R & D had a big hand in the upgrades too! The new AIM Dash screen is in color and much easier to read than an original Elise dash or the earlier AIM dash. New windscreen, new rear rotors, a thorough cleaning, and ... more.
Track sessions were 20 minutes long and all entrants had seven sessions during the day. The GGLC provided snacks and a sound system. Our announcer, Rita S, kept everyone aware of what group was on track and when the next session started.
There was some traffic on track all day as nobody wanted to leave before the track closed! The sound limit was 92DB and a few people did have trouble with sound.
All in all it was a beautiful Monterey day and a memorable start to the 2017 season.
The following picture showing #214 just past start/finish is copyright GotBlueMilk.com.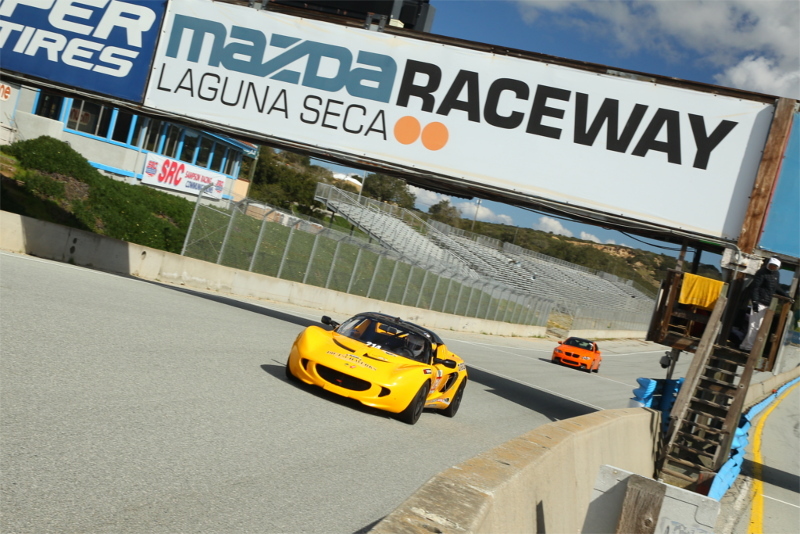 The following is about 7:30AM and Rob Dietsch is setting up my electronics and movie camera in #214. The GGLC sign in table and club truck are in the background.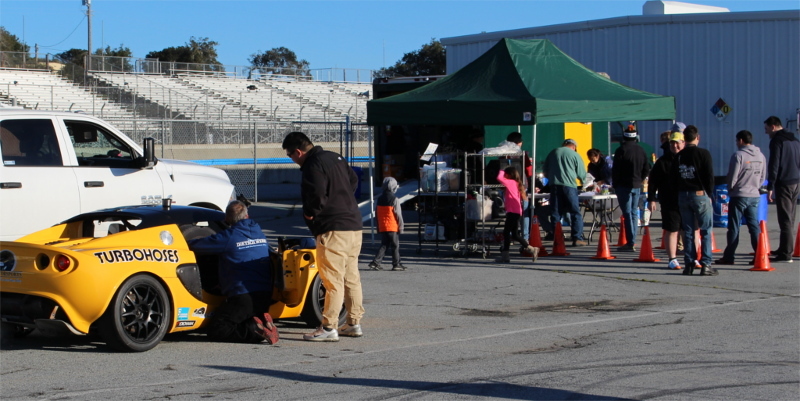 Trackdays, 2016
In 2016 we did four GGLC trackdays and two LotusCupUSA race weekends (in Elise). Plus four GGLC autocrosses (in Lotus Elan).
GGLC Trackday, Mazda Raceway Laguna Seca November 7, 2016
Another beautiful Monterey day on track. Sunny with temperatures in the mid 70's (F) at midday. Each of three groups had seven 20-minute sessions on track, starting with an 8:25 drivers meeting and with the first group on track at 9AM.
Photos by Dito Milian, GotBlueMilk.com.
This is in the approach to turn 6. Turn 5 and a little bit of the main straight and turn2 are in the background.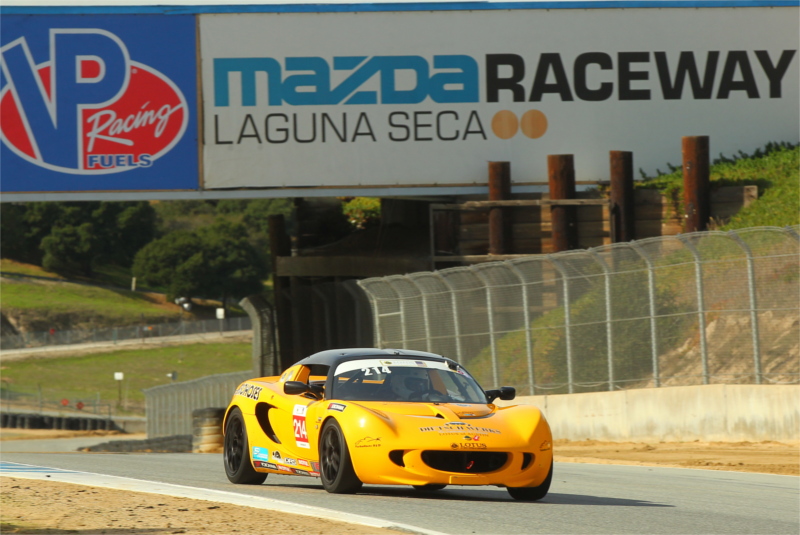 Some cars are bigger than others but not necessarily faster.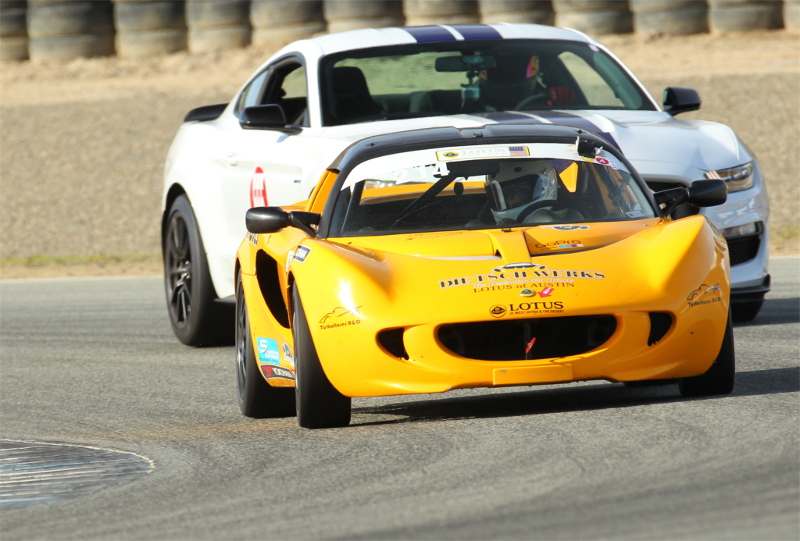 LotusCupUSA Sonoma Raceway. October 29-30 2016
A rainy weekend in Sonoma. Mornings it rained. Your scribe had R888R (intermediate) tires for the rain. Some had full wet race tires so it was clear we would not keep up with those folks in the rain. In the first session (wettest track of the weekend) laptimes were three minutes and more. By race time in the afternoon both days it had cleared and everyone was running slicks. Quite a number of folks had incidents in the rain. A couple of cars had a too-close encounter with a concrete wall. The teams were able to get all the cars together again so all eleven entrants ran both Saturday and Sunday races.
Your correspondent was able to secure a 3rd place in Production class in Saturday's race with the Dietsch/TurboHoses Elise #214.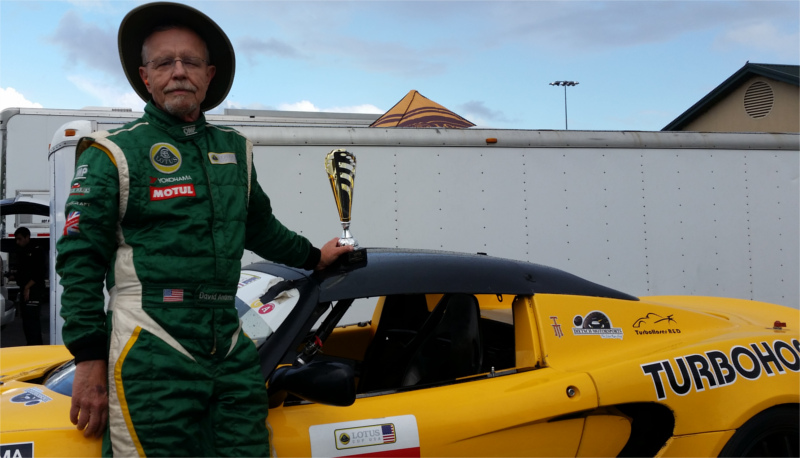 The following was in morning practice and it gives an idea of the situation. Here we are in the entry to Turn 2. Turn 10 (quite a high speed corner, not shown) had very large puddles all morning both days.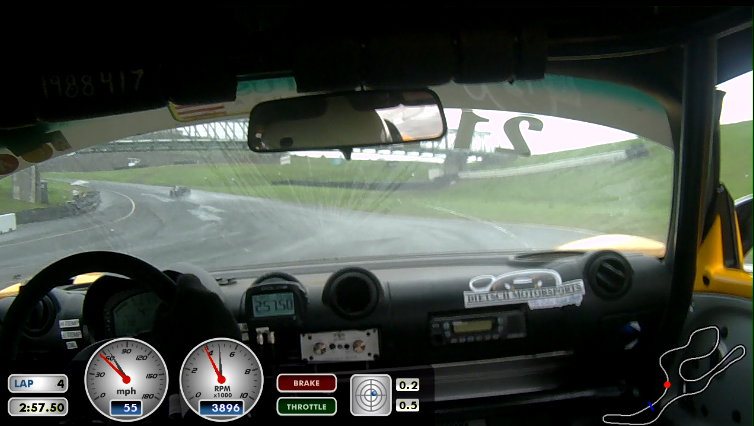 LotusCupUSA Laguna Seca. May 14-15, 2016
Another beautiful weekend in Monterey. The weekend was run by NasaNorcal and kept on schedule all day. I was fortunate enough to take third place in Production class on Saturday. The DietschMotorsports Elise ran flawlessly all weekend, though on Saturday it picked up a string which wrapped around the axle late in the day and cut a CV-joint rubber cover throwing grease everywhere. Rob Dietsch fixed it Saturday evening.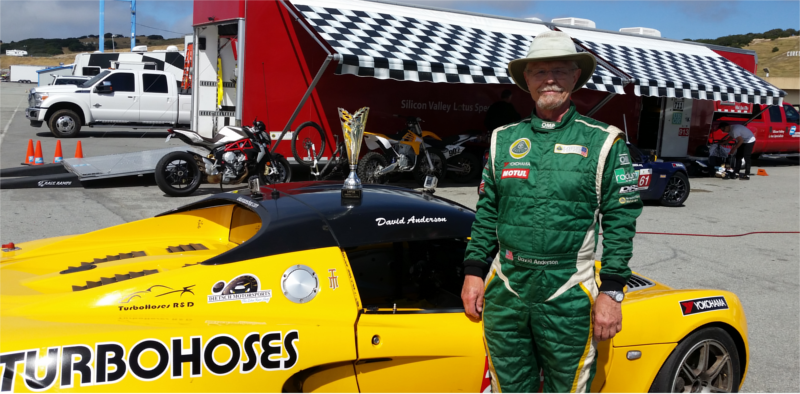 GGLC Trackday at Laguna Seca. February 22, 2016
It was blue skies and 67F temperatures. A beautiful day in Monterey County. It was a 90DB day, so Rob Dietsch had installed a stock muffler in 066 toh guarantee the car passes sound. Of course power is a little lower than with a race muffler (and yes it is perceptible). Still, I managed to take about a second off my previous best time with attention to detail in my Turn 2 breaking point.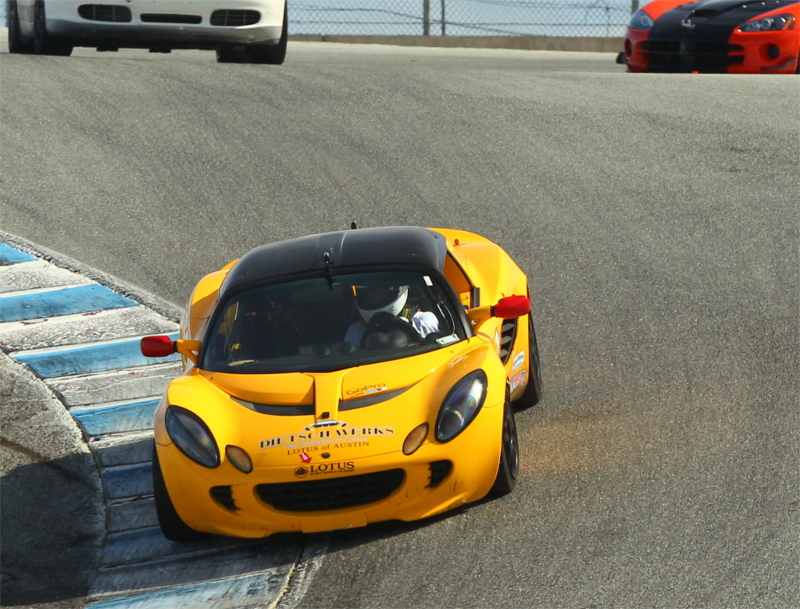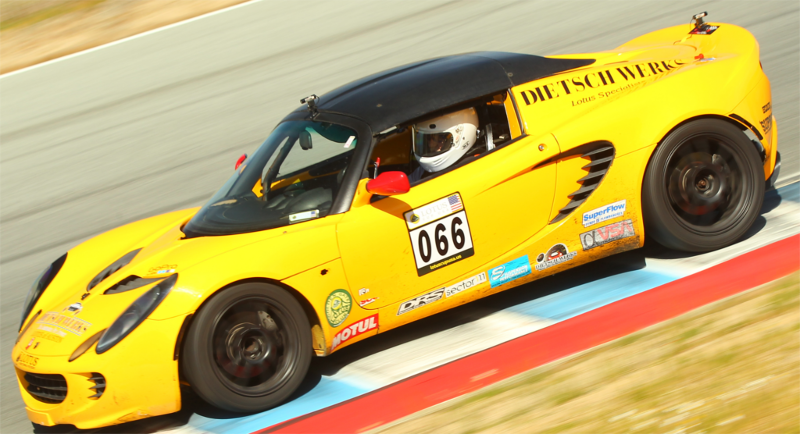 Photos copyright Dito Milian, GotBlueMilk.com.
[top]

This work is licensed under a Creative Commons Attribution 4.0 International License.