Lotus Esprit
1979 Lotus Esprit
This 1979 Esprit S2 is a special one. In 1978 Mario Andretti one the Formula 1 Grand Prix championship and to commemorate that Lotus built a special run of Esprits with black paint, gold stripes, and each is given a number in the range 0 thru 100. (Actually Lotus used that same range in 3 markets, UK, Federal (US), and ROW (Rest Of World), so there might be 3 cars labeled 001, for example). Not all 303 possible cars were built, the exact number is unknown, but one estimate I have heard was that 255 were built.
The car was built in 1979 and shipped to Jim Loose Automotive in Palo Alto. Due to a (in hind-sight) bad decision, the association with Rolls Royce at that period resulted in essentially zero sales for a couple years. The car sat at the dealership till 1981 when it was sold to a gentleman living in Half Moon Bay, CA. I purchased it from him in 1986.
Note the gold stripes on the door are solid color. The original had the words 'World Champion' but the original owner had it changed to solid stripes: he felt "World Champion" was just too pretentious. It was subsequently restored to the correct stripe with the 'World Champion' wording.
Another thing you cannot see is that the inside of the right front wheel is unpainted aluminum. When the car was sold the right front wheel could not be balanced -- it had been manufactured incorrectly. So the service folks at Jim Loose ordered a new wheel for the original owner and painted the outside but not the inside! The Jim Loose dealership in Palo Alto is long gone, the building was torn down and replaced by 1990 (I recall).
By the standards of the day this was quite a fast touring car: 0-60 in 7 seconds, a comfortable ride, and air conditioning as standard. But power was just 140 horsepower (no Turbo) with its 2-liter 4 cylinder engine. By 1985 all US spec cars were Turbo and by 1995 the by-then-2.2 liter 4 cylinder engine was 300+ horsepower.
I no longer own the car, but here is a picture of me at a track day at Laguna Seca, March 4,2002. Sorry about the dust on the lower body panel... You cannot see the '100' decal, which is behind the air scoop.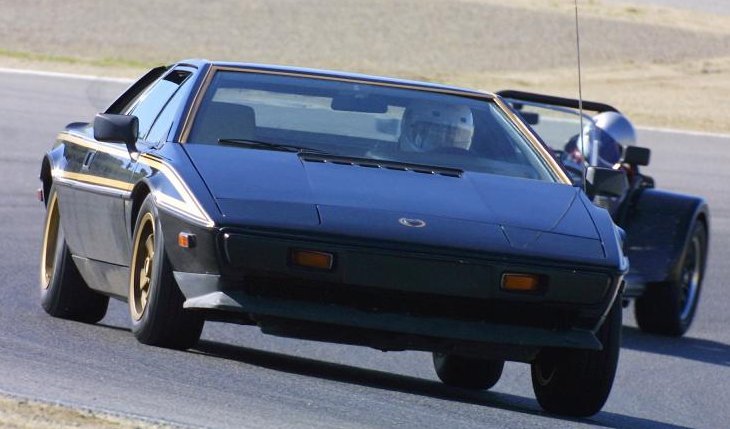 This work is licensed under a Creative Commons Attribution 4.0 International License.